Who are the buyers at OTM?
In addition 30,000+ trade visitors from India and South Asia, OTM Mumbai brings together a healthy mix of buyers from Travel Trade, MICE, Corporate Travel, Destination Wedding Planners, Film Production Houses, making it indispensable for reaching out to India's diverse travel industry.
The geographical distribution of OTM's buyer mix spans all regions of the country - including India's lucrative regional travel markets of tier I and tier II cities.
OTM is held in Mumbai, India's largest city and the biggest outbound travel market in the country.
Travel Trade
OTM Mumbai is attended by 700+ top, hand-picked travel trade buyers - consisting of India's biggest travel agents and tour operators.
OTM Mumbai hosts 500+ travel trade buyers from all over the country, including tier I and tier II cities. In addition, 200+ travel trade buyers who are based in Mumbai, the biggest outbound source market in India attend OTM as pre-registered and partially hosted buyers.
OTM is indispensable for reaching out to buyers in Mumbai and West India, most of whom do not visit any other travel trade show in the country.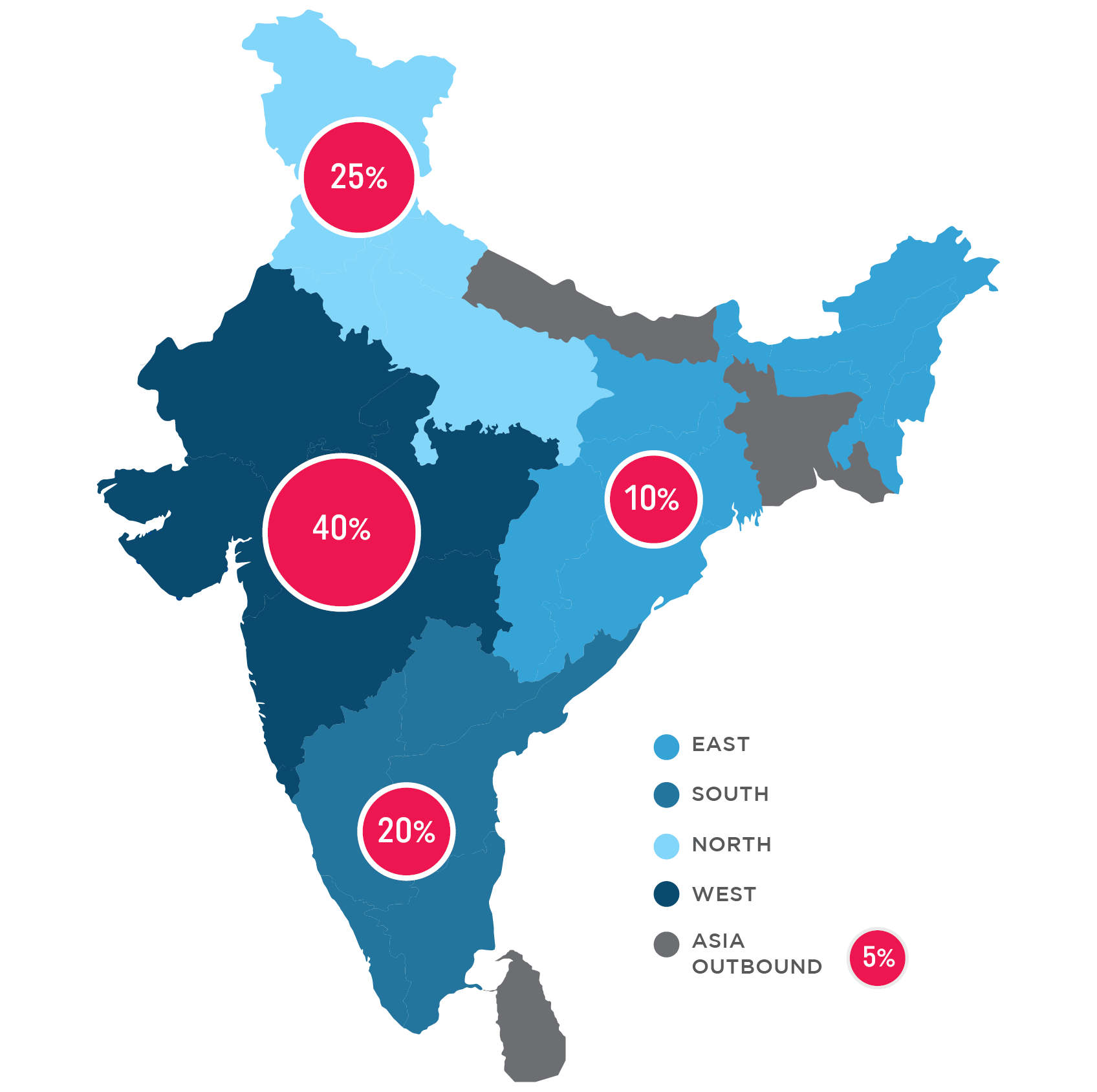 OTM's buyer mix is in sync with the geographical distribution
of India's outbound travel market
Corporate Buyers
OTM Mumbai hosts 50 hand-picked corporate buyers from all over the country, including some of India's largest corporates. In addition, 100+ corporate buyers from Mumbai-headquartered companies attend OTM as pre-registered, partially hosted buyers.
Global Admin Heads, Global Travel Category Managers, Travel Procurement Heads and MICE Managers from companies as diverse and large as ICICI, Ericsson, Reliance, Adani, Sharekhan, Mahindra, Raymond, Network 18 and many others regularly attend OTM.


and 100+ others
MICE Buyers and Wedding Planners
OTM hosts top Wedding Planners, MICE Buyers and Event Management companies from all over the country.
MICE Planners and Wedding Planners attending OTM 2020 include Cineyug, ANR Weddings, Bariza Events, Tamarind Global and 50+ others.
OTM, in partnership with WeddingSutra, organises sessions on Destination Weddings, attended by 50+ top Wedding Planners based in Mumbai.
OTM has struck key partnerships with leading associations and networks of MICE professionals and Wedding Planners to invite and host top buyers from all over the country and Mumbai.

Production Houses @ CineLocales
Films are an excellent way of marketing destinations and production houses are big buyers of travel services. CineLocales at OTM Mumbai invites premier film and TV producers.
It is attended by 30+ top producers including Yashraj Films, Dharma Productions, Salman Khan Films, Viacom, and others from Bollywood and Mumbai, the heart of Indian cinema.